Why Social Media Marketing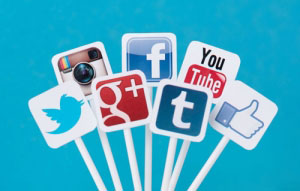 T
oday, social media is one of the most explosive and epidemic ways of sharing information besides the Internet, and WebAtude understands the importance of this. The majority of information the world receives on a daily basis is digital. It only takes a couple of clicks and statistics, information, data, facts, and figures are instantly made available to anyone with an Internet hook-up, and we can meet all of your needs.
WebAtude knows that there are many amazing benefits of social media. It is a great tool for all businesses because it allows for your website to start gaining visibility immediately at a fraction of the cost of traditional advertising. If used right, you can target specific users and optimize your website to significantly increase your followers.
Social media marketing allows you to reach more clients and potential customers.
Not only do you reach more people when your website is utilizing social media marketing, but WebAtude helps your business gain clients and customers trust and loyalty. Having an accomplished social media campaign can help boost your business and reputation.
By now, you must understand that this is an accelerated marketing tool. We take pride knowing you will succeed because we know how to give you options so your business will only prosper, and that using social media as a tool for your company will deliver the marketing message most important for your business in videos or presentations.
With WebAtude, we help you spread the word through articles, press releases, and photos to thousands of web sites that your potential prospects and established clients will watch and see on a daily basis. Over time, prospects become familiar with your brand, which in turn, builds trust and increases what you care about the most? online leads.
WebAtude had marketing solutions for your business, and right now it is time to empower and strengthen your branding strategy, and to acquire powerful results.
Contact Us Now
Contact Us for a FREE Social Media Analysis
Find Out How to Socially Engage Your Clients and Prospective Clients!
Contact Us Now